30-May-12 – 10:50 by ToddG
Over the past couple of weeks, I've received a deluge of emails, forum PMs, phone calls, and smoke signals asking what in the world made me decide to shoot a 1911 for the next endurance test. Well, the answer is pretty simple: I didn't really have faith in the gun's staying power until now. I mean, anything can last for 100 years. But 101? That's awesome.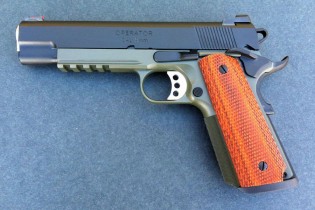 OK, not serious.
There are a few different reasons I wanted to undertake this test.
First and foremost, about 10% of the students who attend a pistol-training.com class are shooting 1911-style pistols. But aside from a few weeks in '08 when I was shooting a ton of rounds through some FBI-HRT guns down at Quantico, I've never really put serious time behind a 1911. I can talk about Berettas, Glocks, HKs, SIGs, and Smiths from extensive experience, whereas I talk about 1911s mostly from an observer's point of view. That should change. Heck, I've learned more about 1911s in the past few weeks — thanks in large part to the advice and assistance of famed gunsmith Jason Burton from Heirloom Precision — than I thought possible.
Second, as anyone who's read this site knows, I've never been part of the Cult of 1911. I've seen far too many 1911s of all shapes, sizes, calibers, and price points come through class and FAIL … dramatically. That mirrored my observations from competition, as well. But I've also seen guys come through class shooting 1911s without a hiccup. So I have very strongly held beliefs, but are they legitimate?
Finally, it will be fun. Even moreso than the HK P30 test where I had to learn the LEM trigger, shooting a 1911 is going to require me to make a lot of changes to how I shoot. I haven't used a manually safety in more than a decade. The mag release button is on the "wrong side" and is far enough forward that I'll need to assess how best to drop mags. The slide release lever, too, is out of normal reach and will require a different approach than what I've been doing for almost 20 years.

So no, this test won't have the same should I buy one? appeal to most readers as previous tests. A semi-custom $2,000 1911 isn't as likely a purchase for most shooters as a $500 Glock. But it will be interesting to see what the gun can do and whether it has any advantages over the less expensive plastic wonderguns. Maybe I'll be done with it in a year. Maybe I'll join the cult. Either way, it will be interesting.
Train hard & stay safe! ToddG