17-Jul-12 – 10:13 by ToddG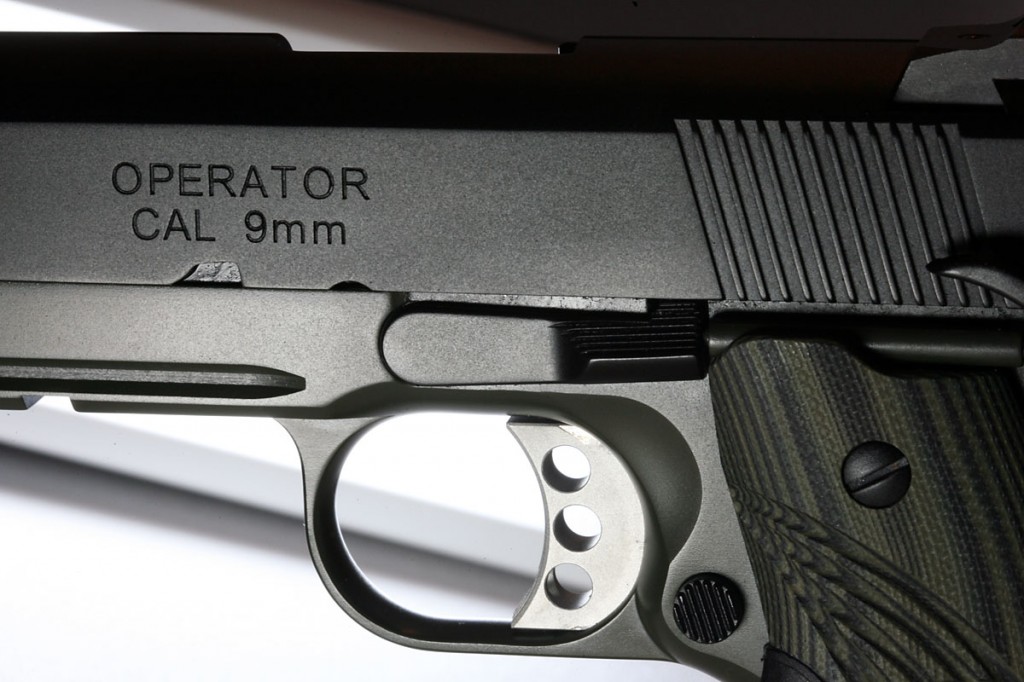 2,287 rounds
0 stoppages
0 malfunctions
0

 parts breakages



Three range trips and almost 2,300 rounds into the test and it's fair to say that some sacred cows are in danger of becoming hamburger. Stoppages? None. Break-in? Not necessary. Ammo sensitivity? Three different FMJ-style rounds and two different JHPs without a problem have gone down the pipe. Magazine issues? Three different brands of magazines fed, fired, extracted, and ejected without hesitation. Expectations? Blown away.
In fact, it's only fair to mention that by this round count during their respective tests both the Glock 17 and even my beloved HK P30 both experienced problems. They were resolved, sure, but no one expected them to have problems in the first place. Some diehard 1911 aficionados were warning me that no one — even the Springfield Armory Custom Shop — could make a 9mm 1911 that would run well out of the box.
They can. I have the box to prove it.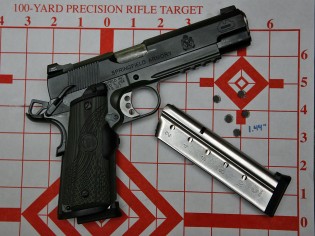 How does it shoot?
Accuracy is very good. Five 5-shot groups fired from the bench at 25yd ranged from 1.44″ to 2.13″ shooting Federal P9HST3 (124gr +p HST), averaging out at 1.82 inches.
Speed on high% targets is easy with splits regularly in the teens. Earlier today I pulled a 0.13 during a Bill Drill… that's the fastest split I've ever managed on a centerfire gun. Presently I'm not even able to manage the gun visually at that speed, so I have some fun work ahead.
Manipulations are another matter. There is a lot of New for me with the 1911: grip safety, thumb safety, strong side thumb magazine release, weak side thumb slide release. My draw to low% targets hasn't suffered measurably but my high% draw has. My reloads are just abysmal. The lion's share of my practice both live- and dry-fire has been on reloads. Still, timing ten 1-reload-3 drills near the end of my practice session today I was only able to get three of them below 2 seconds (and those were 1.98 and a pair at 1.97).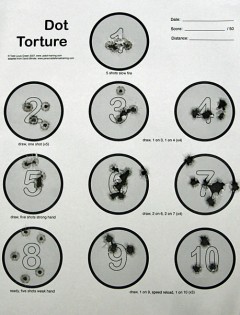 In terms of shooting standards, I ended the day today with a couple of drills familiar to anyone who reads pistol-training.com:
Dot Torture at 7yd scored a perfect 50. Seven yards was my limit with the Glock 17 and I was never able to get all fifty hits beyond that. With the Springfield, seven yards seemed easy. It will be interesting to see if I can match the performance I got from the HK45 (50 at 10yd). I don't shoot DotTor very often — it serves better as a test than a drill — but next time out I'll add a yard and hopefully turn in another 50.
Three runs at the F.A.S.T. turned in good but not earth-shaking results. Remember, these were shot after about two hours of practice, much of it devoted to reloads. So the results — especially the reloads — were disappointing. The draws and head splits were about what I'd expect. I was a little too cautious on the first run but after that the head shots were coming in under two seconds. The body splits were very fast compared to my typical times with previous guns. But high% splits are the least important part of the drill to me…
4.92  (1.58, .46 / 2.34 / .19, .17, .18 / clean)
4.87 (1.48, .37 / 2.50 / .18, .17, .17 / clean)
5.46 (1.47, .37 / 3.08 / .19, .17, .18 / clean)
Reloads are going to be the bane of my existence for the immediate future, eating up what will probably be many hours of dry-fire.
Also, there have been two hiccups that are not being attributed to the gun, but in the interest of full disclosure here are the details so everyone can draw their own conclusions:
While performing the 10-8 Extractor Test, one piece of brass failed to eject fully and was crushed between the slide and barrel during the SHO phase. The gun wasn't being run in proper configuration and wasn't inhibited in any way given that there was no magazine and no new round to be fed. After discussing it among some colleagues, I've decided it should not count against the gun. I've also demonstrated a similar "stoppage" with the Glock and probably with other test guns, as well, and never counted it then, either.
As mentioned previously, the Tripp Cobra magazines were allowing rounds to pop out of the feed lips. This happened once while I was manually stripping a mag from the gun. The "lost" cartridge got captured in the magazine well with no indication anything was wrong until I tried to insert another magazine. The fresh mag wouldn't lock in place for obvious reasons. After some vigorous attempts the errant cartridge dislodged itself and fell clear of the gun. Because the issue did not actually affect the gun's cycle of operation (feed, fire, eject, extract) and was using what are essentially "aftermarket" magazines, I cannot fault the gun.
I cannot say I'm a dyed in the wool 1911 convert quite yet, but certainly the gun runs great and is genuinely fun to shoot. The challenge of making serious improvement to my reload technique is exciting and of course it will be interesting to see how the guns continue to run in terms of reliability and durability.
Coming up over the next week: lots of practice. But even more importantly, the 1911 and I are going to attend Tom Givens' Combative Pistol class in Virginia. While he's normally seen toting Glocks these days, Tom is more than a little familiar with the 1911 platform… he was an instructor for Col. Cooper back in the earliest days of Gunsite.
Train hard & stay safe! ToddG
You can also follow and discuss via the pistol-forum.com 2012-2013 Endurance Test thread.
Previous Springfield/Warren 9mm 1911 Endurance Test posts at pistol-training.com: