24-Jul-12 – 10:15 by ToddG
4,524 rounds
1 stoppage
0 malfunctions
0 parts breakages
1 mag deadlined
It's been a busy week for the test gun: daily dry fire and five days of live fire including a 2-day Rangemaster Combative Pistol course taught by Tom Givens.
In what will no doubt be a shock to pistol-training.com regulars, I cleaned the gun. In fact, it has been cleaned twice since the last report. But first the gun successfully passed the 2,000 Round Challenge. Honestly, I never thought that would happen with a 9mm 1911… especially one as tightly fit and accurate as the test gun.
Then, as if knowing it had proved its reliability in a way exceeding almost everyone's expectations, it experienced a few hiccups.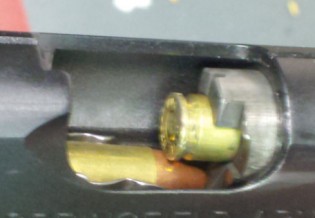 The first problem occurred on Friday 20-July during practice. Round count was somewhere between 2,780 and 2,830. It was a classic failure to extract (see photo at left). I was forced to do a lot of soul searching in determining how to assign guilt for this stoppage. The ammo in use was commercially reloaded from a well known and well respected company. However, the report and recoil from round to round was very inconsistent and I even considered cutting my practice short at one point because of it. After the practice session I decided not to shoot any more of that ammo through the test gun. Furthermore, inspection of remaining ammo from the same batch shows some very beat up brass, particularly at the rim of some rounds. In the end I discussed the stoppage with some trusted friends and experts. I've decided not to count it in the tally against the gun. But as always, the details are here for others to assess and draw their own conclusions.
On Sunday 22-July during the Rangemaster class, the gun experienced another stoppage. Again the circumstances were odd but this one is counted against the gun. We were shooting a version of the "DTI Dance" which includes a dummy round loaded into the gun to simulate a stoppage. Ironically, immediately upon clearing the dummy round the pistol fired a single shot and that piece of brass failed to eject. It was lying loose atop the next round in the magazine. I cleared it immediately during the test so do not have a photo. While the timing is odd, the round fed and fired properly after the dummy round was long gone. So, that counts as the first official gun-induced stoppage of the test at round count #3,920.
One of the Metalform magazines also developed a problem that showed up during dry fire practice. Mag #7 stopped locking the slide back when empty about half the time. It's notable that this is the mag associated with both of the stoppages mentioned above. That could just be a coincidence, but out of eight training mags this one was involved with both problems the gun has suffered so far. It's been culled from the range kit. I've decided to separate out the rejected (deadlined) magazines from other parts breakages in the tally at the top of each report.
In terms of my shooting performance, reloads continue to be my major weakness in running the gun. There are three points at which I'm making mistakes inconsistently: mag drop (hitting the catch), mag insertion, and slide release (hitting the slide stop). Almost all of the dry fire I've been doing has been dedicated to that. The result is that I'm making fewer mistakes and thus seeing fewer outlier bad/fumbled reloads. But my good reloads are still far from where I'd like them to be. I'd predicted that the extra step of dropping the slide with my support hand would add a quarter second to my reload but in my heart I'd hoped it wouldn't be true. So far, it's been true.
The gun is wearing fairly thick stocks (Crimson Trace Lasergrips) which, combined with my stubby thumbs and more than a decade of using my trigger finger to drop a magazine rather than my thumb, made reloads glacially slow. I've now installed an Ed Brown extended magazine catch. The catch needed major fitting as it would neither allow a magazine to be inserted (no pressure on the mag catch button) nor allow a mag to drop free (when the button was pushed in all the way). My totally inexpert Dremel and sandpaper work was adequate to the task but I've got both a 10-8 mag catch and a custom Heirloom Precision (thanks, Jason!) extended catch on their way.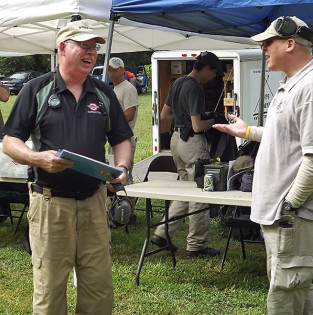 As expected, the biggest challenge with the crisp trigger break has been anticipation. During the Rangemaster class we shot a number of qualification standards and while I was able to score 100% on all of them, at the 25yd line I definitely launched a few that danced precariously close to being outside the 8″ scoring zone. That's just sloppy trigger work on my part and a habit I'm going to have to break. Most of Monday's practice session was spent working on 2″ dots at speed to help exterminate the jerks and snatches infesting my trigger finger.
Otherwise, shooting has been pretty easy. Draws are straightforward, though they require me to position my thumb differently at the holster and that's another habit that sometimes creeps back in. Press-outs are absolutely the same: sights, trigger, bang. If anything, I'd say I'm having an easier time doing good press-outs with the 1911 than I did with the Glock. Splits are ridiculously easy on high% targets. On low% targets I'm seeing more muzzle movement than I'd like. I may try going from a 12# to an 11# recoil spring.
In the coming week I won't get as much opportunity to practice, but I'll be teaching my first class while shooting the 1911. That should make for some fun — or possibly funny — demonstrations. Check back next week to hear all about the parts I'm willing to admit publicly…
Train hard & stay safe! ToddG
(photo from Givens Combative Pistol class courtesy of Tom & Lynn Givens)
You can also follow and discuss via the pistol-forum.com 2012-2013 Endurance Test thread.
Previous Springfield/Warren 9mm 1911 Endurance Test posts at pistol-training.com: