17-Aug-12 – 20:23 by ToddG
8,568 rounds
4 stoppages
0 malfunctions
0 parts breakages
3 mags deadlined
It's been two weeks since the last report because the test gun was back at the Springfield Armory Custom Shop for about a week. Primarily, the gun was sent back to get a couple of spare extractors fitted. While it was there, Springfield checked the gun and re-tuned the installed extractor for good measure. I'd also sent along two of the Metalform magazines that were associated with previous stoppages and as expected, SACS suggested that the mags needed stronger springs.
With just shy of two thousand rounds through the gun since it came back, it's experienced one stoppage. However, it was completely unlike the previous stoppages: a genuine failure to eject.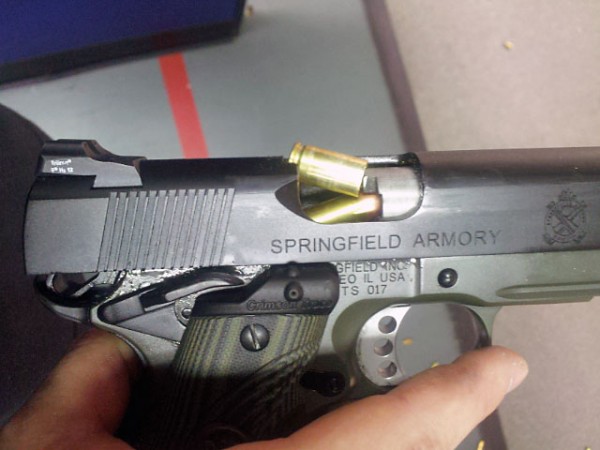 stoppage at #7,956
That stoppage was with one of the Wilson magazines. Ammo was CCI/Speer 54882, their mil-spec (124gr @ 1,230fps) lead free round. I received 50,000 rounds of this ammo and it's definitely hot. Multiple people have shot it side by side with either Federal Champion 115gr FMJ or Winchester White Box 115gr and the difference is noticeable.
I did have to deadline another Metalform magazine. This is the third one that stopped locking the slide back on empty (which is almost certainly the sign of the spring becoming too weak).
From a shooting standpoint, my reloads are coming along but still need work. First I got the mag drop (mag catch) working, then I focused on the mag insertion. Now, the thing I'm fumbling most is the slide catch. The other focus for my practice is multiple shots to low% targets. I've been doing well on the draw, but follow-up shots have been too undisciplined.
Train hard & stay safe! ToddG
You can also follow and discuss via the pistol-forum.com 2012-2013 Endurance Test thread.
Previous Springfield/Warren 9mm 1911 Endurance Test posts at pistol-training.com: