5-Sep-12 – 20:17 by ToddG
10,722 rounds
5 stoppages
0 malfunctions
0 parts breakages
4 mags deadlined
Lots of fun with the gun this past week… including breaking the 10,000 round mark.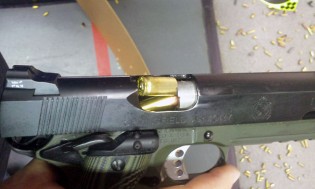 However, as you may notice, there was another stoppage (see left) at round count #10,083. It's a pretty straightforward failure to eject and very similar to the last stoppage at #7,956. Ammo was 124gr mil-spec ("+p") Cleanfire. Magazine was a Wilson ETM. The pistol had been cleaned literally a few hours and 62 rounds earlier. It then shot more than 600 rounds without any more problems.
The gun seems hell bent on hovering right at that 2,000 Mean Rounds Between Stoppage point. I think it's the spirit of John Moses Browning taunting me.
Also, yet another of the Metalform 10rd magazines stopped locking the slide back. That makes four total that have been deadlined. Considering they're now used for only a small portion of my practice (not for matches and never for carry), it's a ridiculously high failure rate. I've got a dozen more still in the wrapper that I should probably just send back. But first I'm looking into a replacement spring to see if that can make all the problems go away.
I shot my first match (KSTG at the NRA Range) with the 1911:
If you think the reload looked bad there, you should see the ones during my F.A.S.T. runs. That's one of the great things about videotaping yourself… it's incontrovertible evidence of the mistakes you make. So I deconstructed the whole thing. Between dry fire, extensive dedicated slow fire practice, and some floating PAR drills I've been seeing pretty reasonable improvement. My near term goal is consistent sub-2 second runs.
Coming up next report will be one or two more practice sessions plus the inaugural Concealed Carry Skills class in Culpeper, Virginia.
Train hard & stay safe! ToddG
You can also follow and discuss via the pistol-forum.com 2012-2013 Endurance Test thread.
Previous Springfield/Warren 9mm 1911 Endurance Test posts at pistol-training.com: