17-Sep-12 – 22:05 by ToddG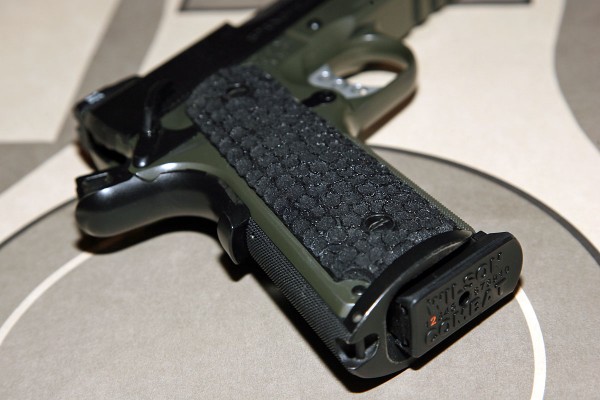 13,008 rounds
8 stoppages
0 malfunctions
0 parts breakages
5 mags deadlined
It's been a tumultuous time with the SACS/Warren gun.
At the two month mark, I did some skill assessments and came to an unpleasant conclusion: I wasn't really getting any better with this gun. I'd made a number of changes in terms of technique and approach to practice and while I was seeing some improvement in daily best results, my average on-demand ability was flat.
Before throwing in the towel, I decided to make two hardware changes.
First, I installed a new set of grips sent by my good friend David at VCD Grips. Between you and me, I was a little skeptical at the bold claims David made about the grips. I didn't think they'd really make that big of a difference. I've never been a fan of stippling grips as evidenced by the from-the-factory condition of my M&P, HK, and Glock pistols.
Dear David,
Boy, was I wrong.
Love, Todd
These grips are without doubt the "grippiest" I've ever seen. Once I apply pressure, it's like the gun is super glued to my hands. The pistol still recoils, of course, but my grip doesn't shift in the slightest. In turn, that allows me to focus pressure on controlling the gun rather than maintaining my grip which is not always the same thing. But even though the grips are incredibly good at locking my hand into place, they somehow avoid the two problems I'd expect with such a design: (1) they don't keep my hands from shifting into position on the grip panel during the presentation or after a reload, and (2) they don't grab at my clothes in an uncomfortable or concealment-busting way. They just work.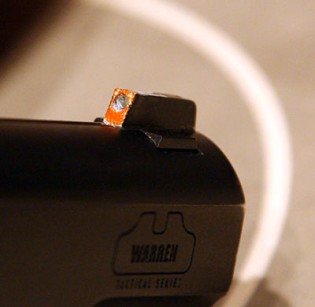 The other major change I made, also coincidentally thanks to a discussion with David, was to revert back to some orange nail polish on my front sight (a la the JohnO DIY High Visibility Front Sight). During the Glock test I became very accustomed to an orange front sight that didn't require any effort on my part to apply or maintain. With the SACS/Warren gun, I decided to forego the hassle but it's been a struggle. I've jumped back and forth between one- and two-eyed shooting trying to make the black front sight work but it never let me achieve what I wanted. Finally, I gave in and did the orange thing. Result: huge instant improvement in my ability to get a fast sight picture, track the sights, and even aim more precisely in slow fire.
So the good news is that, when all was said and done, I got to the point where I was comfortable running the gun and felt like I had a real opportunity ahead to excel with it. I ended the day with a F.A.S.T. run shooting my carry ammo and turned in a decent 4.63 clean (1.55, .36 / 2.14 / .20, .19, .19). I'd like to see another quarter second come off both the draw and the reload, though, before I'll feel like the pistol, the universe, and I have all become One.
Then, today, I decided to start my practice session by burning through my carry ammo with the "300" bullseye drill. My carry gun, in my carry holster, carry mags, carry ammo… literally everything exactly the way it was as I walked around town today. The result was pretty horrifying. First round out of the gun resulted in a feed stoppage. Tap, rack, fire… and a second feed stoppage. Finished the magazine and then on the fourth round of the next magazine it happened again. Three stoppages in less than 15 rounds… the first 15 rounds I would have fired if I'd needed the gun for something more than practice. Call me a sissy, but that raised a concern.
All three stoppages were identical. The cartridge was horizontal, the bullet stuck on the feed ramp about half way up. I spoke with Jason Burton of Heirloom Precision about the problem. Jason has been incredibly generous with his help since I first started toying with the idea of a 1911 test and today was no exception. We discussed the various possibilities and came to the conclusion — based, admittedly, on me describing the problem to him over the phone — that a heavier recoil spring might be the best solution. I had a 14# variable spring in my range bag and had installed it after the initial problems. A short 250 round range session later and there had been no repeat of the problem with either HST or my practice ammunition, much of it shot out of the same two magazines associated with the initial stoppages.
Nonetheless, I have to admit that my faith has been shaken. It's a very unpleasant thing to find that the gun you're carrying wouldn't have worked when you needed it. Just a few days ago, a federal agent at the range needed some help with his SIG and none of the ROs could figure out what was wrong. They asked me to take a look and sure enough, the trigger bar was broken in half. There was no way to make the gun go bang. I felt pity for the guy, because we knew that the breakage could have happened on his last assignment if he'd needed the gun. Today, pity turned to empathy and let me tell you… it sucks.
Also, almost minor importance in the grand scheme, another Metalform magazine stopped locking the slide back. Considering that the Metalforms are hardly ever used anymore, it's pretty clear the problem is nearly universal. I'm looking into possibly replacing the springs to see if that will help.
Due to my teaching schedule I've got precious little time for training over the next couple of months. That means that periodic function testing is going to have to give way to some ham fisted analysis. Tomorrow, the gun will be used at the monthly KSTG match. The next day I'm hoping to spend at least a couple hours on the range working basics and feeding the machine to see if it chokes. After that, it's next chance to shine or falter will be at the Pittsburgh AFHF class this weekend.
Wish me luck…
Train hard & stay safe! ToddG
You can also follow and discuss via the pistol-forum.com 2012-2013 Endurance Test thread.
Previous Springfield/Warren 9mm 1911 Endurance Test posts at pistol-training.com: