27-Sep-12 – 18:13 by ToddG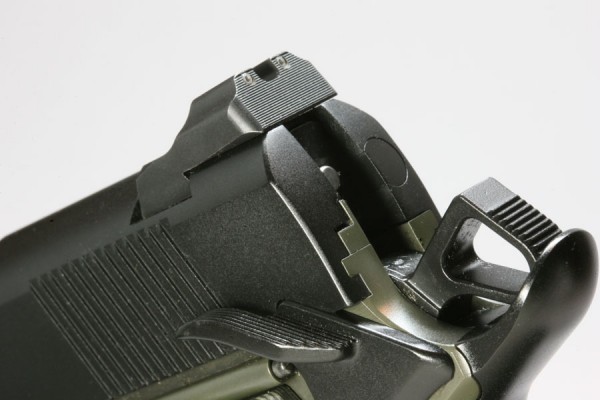 16,071 rounds
8 stoppages
0 malfunctions
0 parts breakages
6 mags deadlined
It's been more than 3,300 rounds since the three stoppages I experienced with my carry ammo and mags. The gun has been functioning properly ever since I swapped to a 14# variable recoil spring per the recommendation of Jason Burton (Heirloom Precision). About 100 rounds of that has been carry ammo through my new carry mags, and hundreds of rounds have gone through the previous carry mags (the ones that were in the gun when it failed).
In fact, this has been the longest stretch the gun has gone without a stoppage. That Burton guy… he could probably make a living doing the 1911 thing.
In an attempt to get the Metalform magazines working properly, I took the advice of Brownells tech support and bought some 8# magazine springs. Unfortunately, these appear to be the exact same springs (number of coils and gauge of wire) as came in the mags originally. Furthermore, a new spring did not alleviate the problems that some of the Metalform magazines were having — failing to lock back on an empty magazine and occasionally sticking in the gun — which leads me to believe that it is a problem with the follower rather than spring tension that is causing the issues. I deadlined another magazine because of it. It probably doesn't even make sense to track the number any more since essentially they're all questionable.
So, I continue to rely primarily on Wilson ETM magazines for practice and exclusively for carry. These are the mags that everyone from Burton to Ken Hackathorn told me to use before this test even began. But did I listen? Well, lesson learned.
On the shooting performance side of things, burning through 2,000 rounds per week has definitely helped to turn the corner on some issues I was having. There have been a few key lightbulb moments:
Because the trigger break on the Springfield is so short and crisp, I was getting into a habit of letting the trigger dictate the speed at which I pressed the gun out. This led to dramatically reduced accuracy on low% targets and/or a need to stop and find the sight after reaching full extension. Simply slowing down the gun's extension forward during the draw to a speed at which I can lock in on the front sight not only improved accuracy but also speed (because the shot was reliably breaking at extension instead of after it). Shooting this week's Drill of the Week got me down to sub-1.2 second hits from concealment on the 3×5. I followed that up a couple days later with a similar "floating PAR" drill of doubles to the 3×5 card at 7yd from concealment and got to the point where I was scoring both hits in less than 1.6 seconds about half the time.
Along very similar lines, my endless battle with reloads got a boost from the same "slow down and do it right to be faster" approach. In particular, I've found that taking the time to get a solid visual lock on the front corner of the magazine well during my reload and slowing down the insertion to a speed where I can guarantee a smooth single motion has greatly reduced the number of fumbled reloads I'm causing. The long term goal, obviously, is to build up enough reps that neither the visual index nor the moderated pace are necessary. But for now, while my best reloads are a tenth of a second or so slower, my average reload is a quarter second faster.
Improving the press-out and reload helped me turn in the best 99 Drill results I've had with the 1911 so far: 92 total (-1, -3, -1, -2). The reload stage is still the one kicking my butt, usually because I fail to do a good press-out after the reload or because I rush the reload (and fumble… see bullet point above).
All of this culminated on Wednesday night when I ran five consecutive clean F.A.S.T.s in a row under five seconds. The numbers weren't amazing but it's the best string of successes I've had since starting this test:
4.96: 1.69, .35 / 2.26 / .22, .22, .22 (clean)
4.79: 1.54, .41 / 2.20 / .22, .21, .21 (clean)
4.86: 1.52, .39 / 2.29 / .23, .22, .21 (clean)
4.88: 1.52, .46 / 2.22 / .23, .23, .22 (clean)
4.96: 1.62, .43 / 2.22 / .33, .22, .24 (clean)
5.76: 1.57, .46 / 3.06 / .24, .23, .21 (clean) Metalform magazine got stuck in the gun and needed to be ripped out by hand to clear the mag well.
For comparison, my personal best with the HK45 was nine in a row, and with the G17 I once did eleven in a row. So there is obviously still a lot of work that needs to be done to get dialed in with the 1911. I need to be more aggressive (or just more confident) on the two head shots… I know from this week's practice that I can consistently get both hits in 1.8 or better, but I'm averaging two-tenths more than that on the FAST. And as I work the final kinks out of the reload I expect to see another quarter second improvement, at a minimum, from that part of the drill.
I'm in Albuquerque for the last Aim Fast, Hit Small class of the year this weekend with some pretty experienced 1911 shooters in attendance. It will be interesting to get their take on the gun.
Train hard & stay safe! ToddG
You can also follow and discuss via the pistol-forum.com 2012-2013 Endurance Test thread.
Previous Springfield/Warren 9mm 1911 Endurance Test posts at pistol-training.com: