12-Oct-12 – 19:15 by ToddG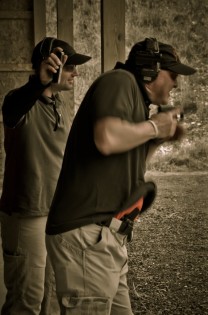 Shooting a personal best on a drill is a great feeling. It's evidence that all your effort is paying off. Many shooters can rattle off their personal bests on any number of standards and drills. Often one of the first things a student tells me about himself in class — or even before I meet him in class — is his personal best F.A.S.T. score.
But a personal best doesn't tell the whole story. By definition, it represents a single instance where everything came together as well as it could.
Personally, I'm far more interested in consistent on-demand performance. The way I practice is a reflection of that.
With the help of some pistol-forum.com readers, I've been running something of an experiment. We took a very simple but unfamiliar drill — draw, three to the body, two to the head — and collected two separate bits of data. First, the shooter's personal best on the drill… the fastest he was able to shoot the drill and score all five hits. Second, the shooter's consistent on-demand ability… the speed at which he could guarantee all five hits every time.
Not surprisingly, the difference between personal best and consistent ability was significant. On average, the shooters needed greater than 20% more time to guarantee their hits. One shooter's difference was particularly huge at 42%! On the other end of the spectrum we had someone whose on-demand speed was less than 5% slower than his best run.
Does focusing on consistent performance mean you don't try to get better? Of course not. But it means that instead of putting every effort into one awesome run and ignoring all the mistakes you make along the way, you're honest with yourself about what you can actually do when the chips are down. We had someone on our forum talking about how fast his reloads were in dry fire, but they weren't nearly that fast during live practice or at a match. Nonetheless, he kept trying to speed up his dry fire reloads. Why? How about figuring out the reason your real reloads are lagging behind and trying to make improvements to them, instead of working to set new personal records that clearly aren't carrying over to performance when it's needed for real?
If you make setting personal records your goal for every rep of every drill, you'll most likely discover that your really good runs are outstanding but your average overall is disappointing. Flailing like mad to be faster than ever before every single time tends to lead to more mistakes, fumbles, and eventually bad habits than taking a more methodical approach. You still have to go fast to get fast, but if you throw caution to the wind in an attempt to impress your buddies (or the internet) every time you draw your gun you're not getting in the good reps necessary to build consistent skill that you can call on in demand under stress when you really need it.
That's not to say that your personal best is unimportant. It tells you what you're capable of when everything comes together as best you can manage. It's a goal in and of itself. Practice should be about getting your everyday on demand ability closer to that personal record. If you do that, you'll find the personal records improve all on their own.
Train hard & stay safe! ToddG
(photo courtesy Arclight)