15-Apr-13 – 19:47 by ToddG
30,297 rounds
11 stoppages
0 malfunctions
1

 parts breakages
The gun has passed the 30,000 round mark but suffered one more (minor) stoppage… the first in eleven thousand rounds.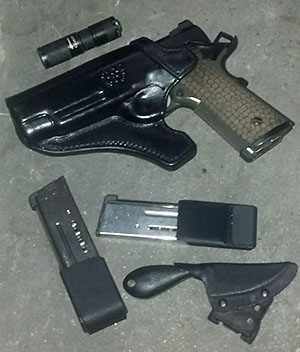 During practice the gun experienced a failure to fire. The hammer dropped but there was almost no mark whatsoever on the primer. The round fired normally on a second attempt. No other failures to fire were experienced with approximately 20,000 rounds of that lot# ammo during previous shooting. As such, the stoppage gets counted against the pistol.
The gun has otherwise continued to run like a perpetual motion machine. Problems reported in the last update related to slidelock failures have been resolved by a combination of new followers & springs for the magazines along with a change to my support hand position when gripping the gun.
New mag pouches and some new focus on certain aspects of my reload technique have paid dividends as well with my average reload dropping by more than a quarter of a second. Consistent sub-2s reloads from concealment now seem within reach. Of course, sub-2s reloads from concealment were ordinary with all my previous test guns but the 1911 is the first one that requires me to use my support hand to release the slide… a significantly slower method than preloading the slide release lever with the shooting hand thumb (if you can reach).
The pistol was cleaned at the 30k point and both the recoil & firing pin springs were replaced per schedule.
Over the next twelve days the gun will see a decent amount of range time between practice and this month's KSTG Match at the NRA Range. Check back next week to see how it all came together.
Train hard & stay safe! ToddG
You can also follow and discuss via the pistol-forum.com 2012-2013 Endurance Test thread.
Previous Springfield/Warren 9mm 1911 Endurance Test posts at pistol-training.com: