30-Jul-13 – 16:27 by ToddG
A friend of mine emailed last week to say that his small police department in Ohio was switching from the .40-cal pistols they've been carrying for years to a new 9mm. Just yesterday, local papers in South Dakota announced that the Sioux Falls PD was also switching from .40 to 9mm.
Quieter and still happening behind the scenes, two major federal agencies are both considering a move from their current sidearms to 9mm. Between the two they represent almost 20,000 armed personnel.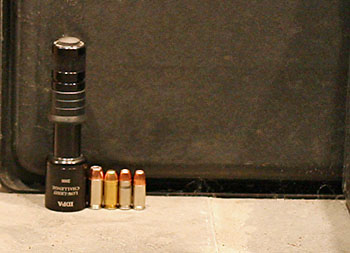 It's a growing trend and, in my opinion, one that is long overdue.
Look at the photo (left). Even from just arm's length away it's hard to discern any real difference between the huge .45 Auto on the left and the tiny 9×19 on the right compared to something like a Surefire 6Z flashlight. (kids, that's a flashlight the dinosaurs used to hunt cavemen during the Cantakerous Era)
The huge shift in American law enforcement to the .40 S&W in the mid-90s is often seen as proof that it's more effective at stopping bad people from doing bad things. But that's not how the .40 proliferated so quickly among LE agencies. The .40 S&W's popularity is owed almost completely to the 1994 Assault Weapons Ban and its limitation on magazine capacity.
<Archer voice> Gasp you should! </voice>
The AWB allowed gun manufacturers to buy back previously issued LE magazines and resell them on the commercial market. That made all those used, abused, high capacity magazines worth their weight in gold. So manufacturers went to agencies and offered to trade them, at no cost, new & improved big-caliber guns for their wimpy little 9mms. The agency got a new gun that fit in its current holsters, replacing old and sometimes completely worn out guns. The administrators and union leaders got to parade the new guns in front of the troops as proof that they were Doing Something Important. And the gun companies got a bunch of guns that they could refurbish for a few dollars and then sell for a small mint simply by supplying one of those pre-ban high capacity magazines in the box.
That's not idle speculation. I worked for two different major handgun manufacturers during the AWB. That's how business was done. It made the companies a lot of money and made the LE customers very happy. And in the process it brainwashed many people into thinking that somehow the 9mm was a spitball while the .40 was a cannonball.
Now, decades of experience have proven that no common law enforcement handgun round, whether it's 9mm, .40, 357, or .45 rises to the mythical "one shot stop" level. With current technology, the hollowpoints being designed and manufactured by the major ammunition companies are all comparable to one another regardless of caliber. Heck, it's a very poorly kept secret that the FBI considers its current 9mm duty ammo — issued primarily to shooters who cannot handle the .40 during qualification — more effective than the .45 ammo it issues its own SWAT personnel. Why? The 9mm round was developed just a couple years ago. The .45 round is from the mid-90's. That's how much JHP design has advanced in 20 years!
The move to 9mm does many things for an agency. First, as alluded to above, it is easier for many marginal shooters to qualify with the lighter recoiling 9mm. That means a lot to law enforcement agency administrators and legal counsel: fewer reshoots (costly in terms of ammo and manpower) and fewer failures (costly in terms of retraining and, all too often, lawsuits). Second, for a given gun the officers have more rounds on board while actually reducing weight.
Third and perhaps most importantly in an age of tax shortfalls and budget cuts, 9mm ammo is just plain cheap. I just got a quote on some .45 ammunition — straight from the same company and at the same price most LE agencies would pay — and compared to the same exact brand in 9mm it was sixty percent more expensive.
9mm: easy to shoot, effective, economical. And it even works in 1911's.
Train hard & stay safe! ToddG