13-Aug-13 – 23:14 by ToddG
49,174 rounds
14 stoppages
0 malfunctions
4

 parts breakages
As reported last week, the SACS/Warren test gun suffered its second broken ejector. It was shipped back to Springfield at their expense on Monday the 5th and was back in my hands on Friday the 9th.
Candidly, I have mixed feelings about this breakage. A part that fails multiple times during a test is certainly troublesome but the breakage did not have any obvious negative effect on function. The pistol fired hundreds and hundreds of rounds after the break was discovered… and probably hundreds, possibly thousands of rounds before it was discovered.
A little experimentation and observation shows that the rear of the left magazine feed lip is just barely making contact with the ejector when the mag is inserted forcefully into the gun. This is the case with the Wilson, Metalform, and Tripp 10-round magazines but not with the factory supplied Springfield/Metalform 9-round magazines.
Since the gun has been back from SACS it's fired more than 2,200 rounds without the slightest issue. Still, my attitude is now more a matter of when the ejector will break again rather than if it will break again. I'm not overly worried since the gun obviously continues to function reliably even without the ejector but if nothing else it's an inconvenience to get it fixed. Not enough of an inconvenience to start using 9-round magazines, though, obviously.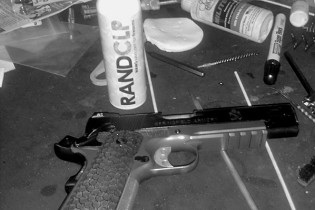 Further tempting fate right before the 50,000 round mark is reached, I've begun using Rand CLP (now branded as Viking Tactics Rand CLP and endorsed by renowned instructor Kyle Lamb). Rand sent me two 4oz samples before this year's SHOT Show but I promptly forgot about them until recently. Then I saw the write up at Modern Service Weapons and thought I'd give it a try. It's been great so far but obviously there's a long way to go before I can say it's actually performing better than the Militec that's protected my guns for more than a decade of high volume, low maintenance shooting. New magical lubricants come and go nearly daily in our industry and I'm always skeptical that the latest gun oil is really snake oil. But enough folks are giving Rand CLP the thumbs up that it might just be a better solution, pardon the pun.
The SACS/Warren gun itself is quickly closing in on the 50,000 round mark. Hopefully, that will happen with the next update in about a week.
Train hard & stay safe! ToddG
You can also follow and discuss via the pistol-forum.com 2012-2013 Endurance Test thread.
Previous Springfield/Warren 9mm 1911 Endurance Test posts at pistol-training.com: