4-Sep-13 – 09:19 by ToddG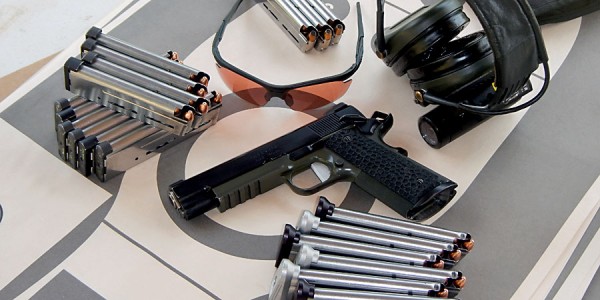 50,286 rounds
14 stoppages
0 malfunctions
4

 parts breakages



With fifty thousand rounds downrange and on the books, what is the no holds barred assessment of the SACS/Warren 9mm?
I like it. I like it a lot. 
Though in fairness, it's hard to explain in objective terms. Looking at just the raw numbers, the only factor that stands out is the price. At more than twice the cost of a P30 or HK45 (or three times a Glock or M&P), good old WTS-017 has been spectacular more in its ability to shatter myths than shatter records. For example…
Shootability: This is where a 9mm 1911 was supposed to shine like a million hippies doused in gasoline at Burning Man. While it has turned in some good performances, there are areas in which I definitely struggled more than expected.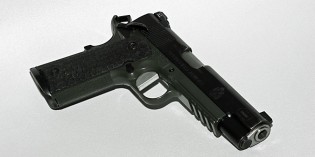 It's hard to blame the gun too much since unlike previous tests, this one had multiple weeks- or even months-long breaks between training time. That doesn't change the fact that some tasks are just plain undeniably slower (like slidelock reloads). Even the much-vaunted 1911 trigger wasn't the magical faerie dust folks want you to believe.
Nonetheless, with some dedicated effort I was able to clean up a lot of my errors with positive results. Most telling for me is the consistency I was able to achieve on the F.A.S.T. in a 50-run marathon. Even giving up an entire half second on reloads, the SACS/Warren pistol gave me both the best average time, highest percentage of successful sub-5s clean runs, and best accuracy of any gun I've tested to date:
| | | | | | | | | | | |
| --- | --- | --- | --- | --- | --- | --- | --- | --- | --- | --- |
| | <5s | 5-7s | 7-10s | Avg | % 3×5 hits | % 8" hits | Draw | 3×5 split | R/L | 8" splits |
| SACS/Warren | 34 | 13 | 3 | 5.06 | 96% | 99.50% | 1.60 | 0.42 | 2.27 | 0.20 |
| Glock 17 | 25 | 17 | 8 | 5.12 | 83% | 96.50% | 1.43 | 0.40 | 1.81 | 0.20 |
| HK45 | 30 | 12 | 7 | 5.54 | 85% | 96.50% | 1.57 | 0.52 | 2.03 | 0.23 |
While consistency and accuracy were great, that reload definitely hurt in the record-breaking department. My personal best with the SACS/Warren gun was at 4.27 seconds compared to 3.87 with the Glock, 4.14 with the HK45, 4.08 with the P30, or even the M&P9 by a small margin at 4.26 seconds.
My best Dot Torture was a perfect 50 at seven yards, far from the clean 10yd run with the P30 & HK45, 49/50 at ten with the Glock, or 50 at nine yards with the M&P9. The crisp 1911 trigger is just so much easier to anticipate and snatch than a rolling LEM for me.
Another major benchmark test I use is JodyH's popular 99 Drill. It's a great test of consistent accuracy under time pressure. The SACS/Warren gun did very well, tying my personal best at 97/99 (first achieved with the Glock).
So in terms of performance, the SACS/Warren 9mm 1911 was a mixed bag. The potential is definitely there, but wringing it out of the gun required a lot of effort from someone used to double action and striker fired guns.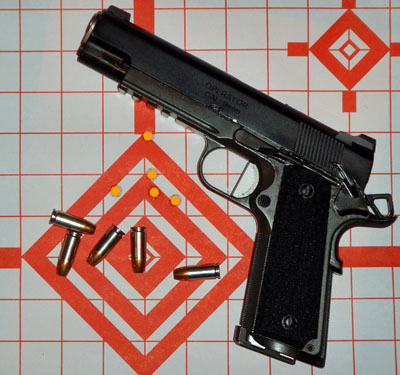 Accuracy: New, the pistol averaged 1.82″ 5-shot groups from a rest at 25yd shooting my carry ammunition, Federal P9HST3. At 50,000 rounds after a very thorough cleaning — including soaking the barrel in solvent for hours — that had opened up to 2.40″ with groups ranging from the 1.70″ pictured below to 2.66″.
That accuracy is essentially identical to what the G17 turned in at 50k but certainly not as tight as the HK45 (1.85″), the M&P9 (1.72″), or the incredible 1.53″ averaged by the P30 when it hit 50,000 rounds.
Reliability: Comparatively, the SACS/Warren gun was the least reliable gun put through a 50,000 round test. It suffered fourteen stoppages compared to nine with the P30, eight with the Glock, and two each from the HK45 and M&P9 by the 50k mark.
In absolute terms, the gun's reliability far exceeds industry standards and, once I settled on Wilson ETM magazines and 14# variable recoil spring it ran very reliably indeed.
In terms of expectations, this 9mm 1911 was amazingly reliable. Everyone — even the 1911 aficionados — expected more problems than this. If there is one myth that was squarely busted during this test it was the assumption of unrelenting problems with a sub-caliber 1911.
For more discussion about the pistol's reliability, check out the detailed discussion posted previously.
Durability: Another major myth of the 1911 is that the small parts break frequently and that you "need to be your own gunsmith" to survive ownership. It took 18,000 rounds to break the first part, a mainspring housing pin that wasn't discovered until the pistol was disassembled and which never diminished the gun's function in any way. Springfield sent out an improved pin as replacement and it's still in perfect condition today.
The ejector broke… twice. The first time was just past 30,000 rounds and the second was at 46,000 rounds. In both cases, the gun continued to run for hundreds of rounds without any trouble. Springfield fixed it promptly both times. The cause of the breakages: the 10-round Wilson ETM magazines were striking the ejector upon insertion. This also happens with the Metalform and Tripp magazines I have, but not with the factory supplied Springfield 9-round magazines. It's only fair to say that had I used the factory magazines, these two breakages never would have happened.
The slide stop notch began to round a bit at the 30,000 mark and Springfield touched it up when the gun was back for the ejector replacement.
Except for some holster wear on the exterior and cycling wear on the rails, the gun is pretty much good as new.
Notably, a lot of the parts that people expect to fail on a 1911 simply didn't. The extractor, for example, is original to the gun. It got tuned as a courtesy by SACS when the gun was back to them around the 6,000 round point and hasn't been touched in more than forty thousand rounds since. The MIM sear didn't disintegrate. The plunger tube never launched into space. The link didn't become dislodged, get stuck in my throat, and choke me to death. The ambi safety didn't break, come loose, or murder my dog when I wasn't looking.
I never needed a file, dremel, or CNC machine to keep the gun running. While I cleaned it uncharacteristically "frequently" compared to previous tests, it received such treatment just 21 times (about once every 2,300 rounds) and was only detail stripped & cleaned a few times.
Concealment & Comfort: As usual, full size gun + excellent holster = all day comfort and excellent concealment. The two holsters I used the most during the test were the JM Custom Kydex aiwb and the 5 Shot Leather S.M.E. While the gun is almost twice as heavy as those used in previous tests, substantially longer, and taller in the grip area, the thinner frame actually made it easier to conceal than some of the wide, blocky guns. I've worn the gun during long drives, at the movies, and more than once I've fallen asleep on the couch with it on.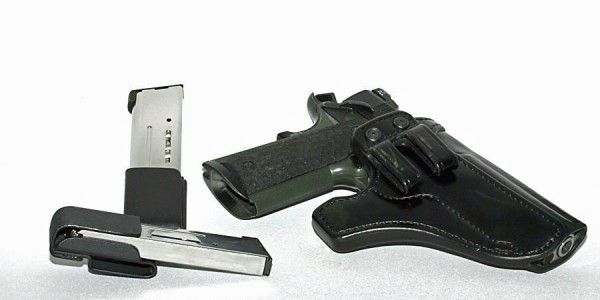 Overall pros:
the pistol's all-steel construction and short, light trigger add up to consistent accuracy on low% targets at speed and very fast splits on high% targets
reliability far exceeding expectations and industry standards
required much less maintenance than predicted
sense of oneness with the universe when shooting a 1911
Overall cons:
slidelock reloads are much slower due to narrow magazine and the short, forward placed slide stop lever
trigger is very easy to anticipate when slowing down for maximum accuracy
ten rounds is a whole lot less than seventeen when you're thinking about needing to shoot multiple people five or six times each
it's 'spensive
no matter how well it runs and how well you shoot it, some people will always criticize it (and you) for being 9mm
My  conclusion: Separate from any data or list of pros and cons, I simply love this gun. Even when I'm frustrated by it, I always having fun shooting it. Would I say you're crazy to choose a $450 Glock over a $2,000 9mm Springfield Custom Shop 1911? No. But if you did choose the 1911, I'd understand completely… and I'd do the same.
And once again I'd like to thank the companies that helped make this test possible:
Train hard & stay safe! ToddG
Previous Springfield/Warren 9mm 1911 Endurance Test posts at pistol-training.com: