19-Sep-13 – 14:22 by ToddG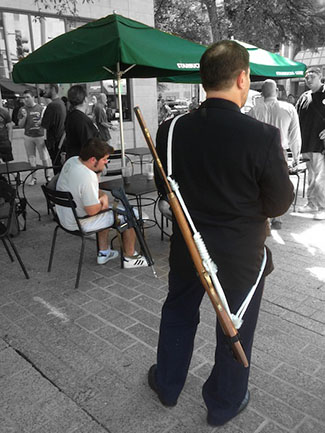 To all of the in-your-face tough guy Open Carry zealots who held Starbucks rallies such as the one pictured here, thanks.
Thanks for forcing a major, high profile international corporation into choosing between its image and yours.
Thanks for making such complete idiots of yourselves with your "Look Ma, I've got a gun and a coffee at the same time!" antics that what had been a nice political win for our side is now a huge media circus about how Starbucks finally said stop bringing guns into our stores.
You can croon about how you're educating the public all you want, but it's bullcrap. And here's a perfect example. Did you convert the average American? No. But you scared enough soccer moms, kids, and coffee jockeys that Starbucks was forced to take action.
It was you that turned Starbucks into a political battleground. It was you that couldn't just take the victory of Starbucks saying it would abide by local laws rather than ban guns. It was you who had to push the limits and do things utterly unacceptable among almost any normal community in the United States just so you could brag to your equally moronic Facetwit buddies. You did this. You gave the entire Second Amendment movement a huge black eye. You just educated America, all right, you educated them into believing that gun owners are a bunch of retarded monkeys who'll throw feces the first chance they get if it's legalized.
Do you know what would happen if you walked into the NRA Headquarter Range carrying a gun like the guys pictured above? You'd be refused entrance because they don't allow people to walk around like that. Know what would happen if you, a stranger, walked up to my front door carrying a shotgun like this guy: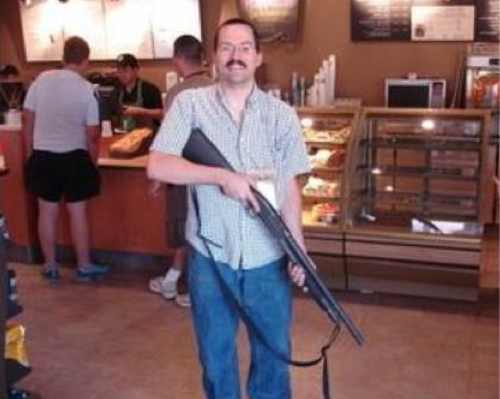 At a bare minimum you'd have a gun pointed at your face and police sirens closing in at top speed. Worst case scenario, you'd get shot dead. You know why? Because in suburban America, normal people don't walk around carrying rifles and shotguns. Period.
Go tattoo your forehead or get your eyeballs pierced if you want to be cool & different & edgy. Stop carrying guns or talking about guns or even thinking about guns. Because you're idiots, and you're not helping.
(for a less angry, more in-depth intelligent read on the subject, try Sebastian at Shall Not Be Questioned)
Train hard & be smart for once in your God-forsaken life! ToddG
original rifles in front of Starbucks photo from NBC affiliate KXAN 
shotgun photo from thenewcivilrightsmovement.com (edited to add: per the shotgun-wielding gentleman in the photo above via practicaltacticalpodcast.com via Tam, that particular Starbucks is in fact in Kuwait circa 2005 … so no harm no foul, buddy, but thanks for giving me a photo to riff off of)