25-Dec-13 – 12:24 by ToddG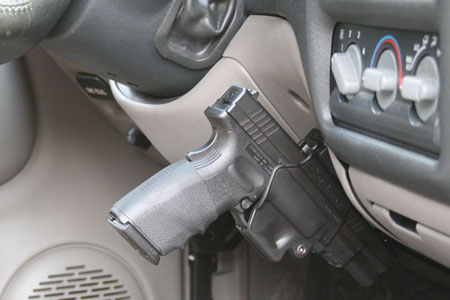 A friend just emailed me about the "holster" someone bought him as a gift for Christmas. It's intended to be mounted to a car. It's not the one pictured above but the concept is close to identical.
Exactly how bloody stupid do you have to be to think this is a good idea?
Clearly you've never seen what happens in a real car crash. Not only will the gun almost certainly come out of the holster but there's a great chance the holster will shear off the dashboard. But it's not like there could be some other item or piece of debris that could get inside the trigger guard and add a gunshot wound to your accident worries, right? And having a loose gun amid the wreckage of your car couldn't be bad or dangerous in any way, either.
Question for the police officers reading this: You come upon this guy in his car late at night. His hands are on his steering wheel which is inches from this gun. Does this put you more at ease, or less?
What are you supposed to do when you get in and out of the car? Are you administratively handling your gun multiple times per day with the muzzle pointed at (or at least very near) your legs each time?
What do you do if you have a fender bender? Do you grab your gun and go out to meet the other driver visibly armed or do you fiddle around with your pistol in your hand first? What if he sees you with a gun in your hand?
Aren't you going to have to wear a holster anyway for whenever you reach your destination?
And as I was searching through the interweb I found an even dumber idea, using a magnet to mount your gun to your car:
Setting aside the obvious issues of (a) magnetizing small parts in your gun such as the firing pin and (b) relying on the magnet to keep the gun in place in an accident, you've also got a gun pointed at your feet with nothing covering the trigger guard. It's just mind blowing. Well, metatarsal and phalanges blowing, at least.
Seriously, this is the very definition of a solution in search of a problem. Buy a holster that is comfortable while you drive. I can drive eight hours straight with a 5″ steel light-railed 1911 in an appendix holster like the JM Custom Kydex aiwb or the supremely comfortable 5Shot SME. Surely you can find some combination of gun & holster that works for you.
Off body carry should always be a last resort. And if you are going to carry off body it needs to be in the most secure and discreet manner possible.
Friends don't let friends drive <something pithy that communicates "using a car-mounted holster">.
Train hard & stay safe! ToddG
(dashboard holster photo from gearsector.com, magnet holster photo from TTAG)