3-Oct-14 – 17:55 by ToddG
As many of you know, eight weeks ago I had my right elbow completely replaced. The titanium elbow is a fairly new and uncommon procedure, with the mechanism itself costing about $20,000 (thank you, insurance company!). The surgery required a lot of moving and stretching of the nerves in my arm and I literally had to relearn how to move my elbow, wrist, and fingers.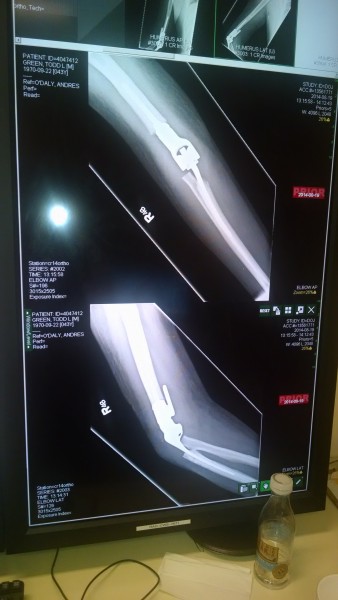 In terms of shooting, I'm basically starting from scratch. Drawing, pressing a trigger, even things as simple as getting a grip on the pistol feel completely unfamiliar right now. It's like being a new shooter all over again.
So far I've simply been working with a Ring's blue gun. I cannot get a good right hand grip yet nor can I fully extend my right arm… the latter probably a permanent deficit. At this point I'm not doing much more than practicing draws and such. Soon I'll be getting into some dry fire. I've also got a P229 .22 kit on its way thanks to a good friend. My plan is to begin working with the .22 kit with the normal limitations before the month is over in what I like to call ballistic dry fire. Then hopefully I'll move to regular 9mm for at least some of my live practice by the end of November.
Re-learning everything I've been doing for the past twenty years is definitely a challenge but it should be an interesting one if nothing else…
Train hard & stay safe! ToddG