8-Feb-15 – 21:45 by ToddG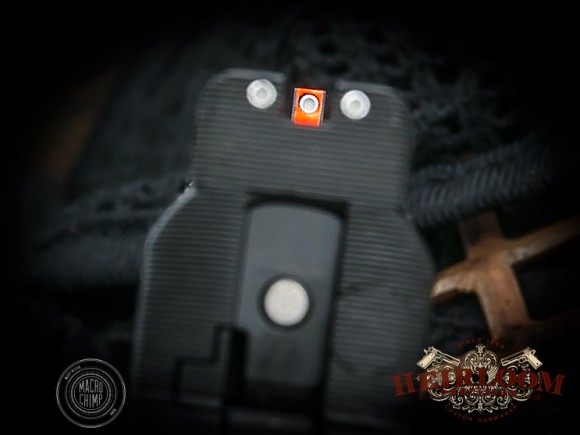 One of the best parts about building a pistol from the ground up with Jason Burton was designing a set of truly bespoke sights. Instead of figuring out which set of sights currently on the market that I liked best, I got to tell Jason what I wanted out of a set of sights and he just, you know, built them from scratch.
My goal was pretty straightforward. I wanted high-visibility sights that would allow speed and precision under all possible lighting conditions. For me there were four primary aspects of achieving this:
A permanent orange high-visibility front sight blade that wouldn't wear off from use or cleaning.
A rear sight notch wide enough to see plenty of "light bar" on either side of the front blade.
3-dot tritium sights.
A point of impact that corresponded with using the front tritium dot as my point of aim.
So why?
The orange front sight is something I've been doing for quite a while now and started out by following John Stewart's advice from many years ago. The high contrast sight is very easy to pick up quickly and track easily. It stands out clearly when using a so-called "soft front sight focus." For me at least, it provides most of the benefits of a fiber optic front sight but doesn't require a lot of light to be useful.
The sight widths are primarily a function of putting a tritium capsule in the front sight and knowing it's held in place strongly enough to last tens of thousands of rounds of shooting. While narrower rear sights and coming into popularity again, I've always liked the balance of speed (gross sight picture) and finesse (finer sight picture) that I can achieve with the wider rear notch. Plenty of people find it easier to align the sights when there is very little extra space between the front post and rear notch. But I've never found that to be true. Much like the concept behind ghost ring sights on subguns, carbines, and rifles the eyes tend to center things very naturally. While I may be giving something up in slow fire marksmanship it's not nearly as important to me (except for bragging rights at the practice range) as being able to make acceptable hits at speed. If that means my slowfire is a little slower than someone else's I can live with it.
Although I used to be a big fan of 2-dot sights I began gravitating back to the more traditional 3-dot night sight setup after contemplating some of the things that Tim Chandler said in his Handgun Lowlight Essentials write-up a few years ago. The idea behind the 2-dot was that the rear sight was "less busy," which is technically true. But a 2-dot sight only lets you align the gun horizontally with your eyes. The vertical alignment depends totally on your index (or your guesstimate of the distance between the upper and lower dot). So people sacrifice a true two-dimensional aiming reference under realistic low light conditions to get a little less busy sight picture when it's daylight bright.
Of course some people eschew tritium on the rear sight at all and insist on using all-black rears because those tiny little capsules are just too darned distracting for them. First of all, I think you're in trouble if a little blurry dot in your sight picture distracts you so much that you can't shoot well because — and I'm just going on stories from friends here — being shot at or hit over the head with a baseball is significantly more distracting. Also, there are all sorts of lighting conditions in which having no tritium in your rear sight leaves you with little more than an index and a glowing bouncing ball in space for aiming. The common response is "I'll have a flashlight" but there are times when you may not want to identify your position with a light though you do still want to aim your gun.
Finally, I use the front dot as my POA/POI because (a) I learned to shoot that way so it's very natural for me and (b) it means my daylight POA/POI is the same as my lowlight POA/POI. It's often referred to as "driving the dot" and it just works for me. It requires a little bit of a 3D mental picture when you're shooting for maximum accuracy at distance but with practice it's doable. At the end of the day it's really little different than using a fiber optic or red dot. You put the dot over the spot. Ta-da.
Obviously, given how many different sight designs are on the market there is a wide variety of tastes and needs. Being able to specify exactly what I wanted and then having a set of sights custom built & regulated just for my gun was an experience I'll greatly miss the next time I have to buy off-the-shelf sights.
Train hard & stay safe! ToddG
Thanks as always to the pistol-training.com Heirloom Project sponsors: