23-Jan-16 – 16:26 by ToddG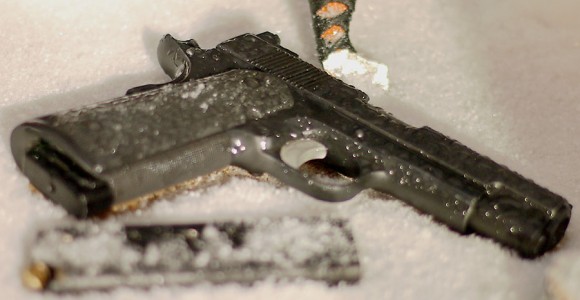 Many people have asked for specific information on the 9mm Commander that Jason Burton of Heirloom Precision built for me. Mostly all I can tell you is that the gun was intended from day one to be built from the ground up as an ideal appendix carry (AIWB) pistol and that I chose Jason because of his reputation and genuine demand of excellence in what he does. Jason doesn't put a gun in a FedEx box unless he's willing to trust it in his own holster. We're talking about a guy who regularly shoots with Rob Leatham. Jason's high standards obviously don't stop at the "shoot straight and look good" level.
Most top gunsmiths collect guns from other smiths. Jason is someone whose guns they carry. That says a lot about his quality and what he expects from his own work.
Since I'm as far from a 1911 expert as you'll ever find, Jason had to fill in a lot of the details: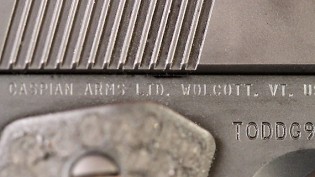 The frame, donated by Caspian Arms, is a Series 80 Commander frame.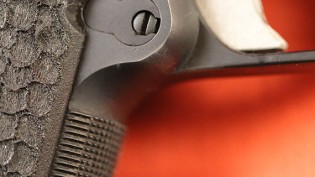 Jason contoured and re-shaped the existing high-cut, hand checkered the frontstrap 25 lines per inch, and also dehorned the frame by hand.
The slide, also provided by Caspian, is for a 4.25″ and obviously Series 80.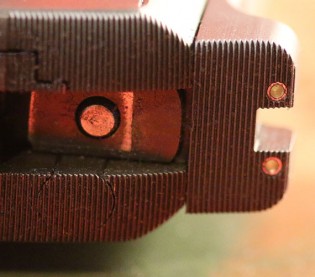 Jason hand serrated the back of the slide to 50lpi . The ejection port was lowered and then a file was used to dehorn it by hand. The rear of the slide was also dehorned by hand.
The top of the slide was flattened and then serrated with Jason's signature 30LPI arrow point. Lightening cuts were made on either side of the cartridge pickup rail. The final step was machining the ball cuts… that is done last to ensure the match fit barrel has completely seated so that the position of the ball-cuts relative to the frame's dustcover is perfect. All of that work reduced the overall weight of the slide by more than 1.6 ounces which is quite substantial. That, in turn, results in a pistol that recoils faster and flatter.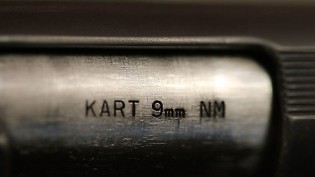 The barrel is a Kart National Match that Jason crowned to a 45 degree angle on a lathe to guarantee concentricity and then gave a high polish. Jason used an EGW bushing that was dehorned by hand. In addition to its aesthetic appeal the barrel as fitted to the slide and frame is capable of producing three-quarter inch groups at 25yd. After some experimenting, I've settled on a Wolff  twelve pound variable recoil spring which provides the flattest recoil while still cycling with 100% reliability.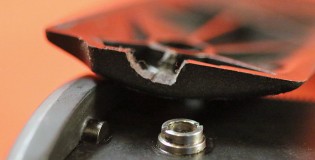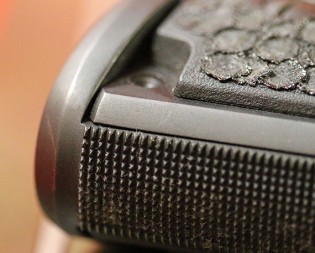 The magazine well is a Smith & Alexander, shear pins were added to prevent the part from being able to shift on the frame and it checkered by hand to 25LPI. Then, with appendix carry specifically in mind, Jason radiused the bottom edge of the part. This has two benefits. First, it breaks up the normally sharp shape, improving concealability. Second, a rounded surface is less likely to snag on clothing during the drawstroke.
The grip safety is an EGW. Jason dehorned it by hand to provide for the highest grip without discomfort. Jason's approach to tuning grip safeties is a bit different than most. Rather than simply reducing the amount of tension on the part, Jason actually increases the tension but shortens the amount of depress needed to disengage the safety. This means that it goes off-safe easily but also pops back on-safe very quickly as soon as your grip lightens up on the frame. Again, it's another safety benefit especially applicable for appendix carry.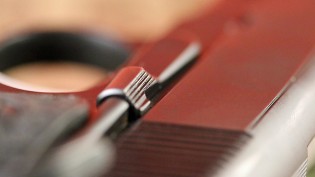 The slide stop was also from EGW, a flat & serrated model that Jason modified by contouring the pad (making it shorter from back to front) so that it doesn't interfere with a high grip.
With few exceptions, the rest of the parts were donated by Wilson Combat and for the most part needed only typical fitting:
mag catch is Wilson Bulletproof™ hand checkered at 25LPI by Jason after he cuts it to an angle to provide better leverage. I'm using a Wolff reduced-2 mag catch spring because my right thumb doesn't have enough strength to get reliable control with a standard spring.
extractor is a Wilson Bulletproof™ tuned by Jason and hand serrated 50lpi to match the rear of the slide.
The hammer, sear, disconnector, firing pin, thumb safety, ejector, and plunger tube are all Wilson Bulletproof™.
The firing pin stop is an oversize Wilson Bulletproof™ 70 Series flat bottom that Jason fitted and modified to work in an 80 Series gun.
The link & pin set as well as the screws, pins, and other springs are all Wilson.
The trigger is a Wilson medium solid and the 80 Series parts are factory Colt. Every part of the action, even the spring ends, were polished to a mirror finish by Jason. When I told Jason I wanted a Series 80 system for the redundant safety it would provide in an appendix carry pistol he didn't even blink. Contrary to internet lore, Jason was able to tune the trigger to a perfectly consistent 3.5# (as measured on my NRA Weight Set) with a very short reset and exactly the amount of "roll" I asked for as I'm not a fan of the glass rod break that some prefer on a 1911. A number of experienced 1911 aficionados have shot the gun and not one of them could tell it was a Series 80.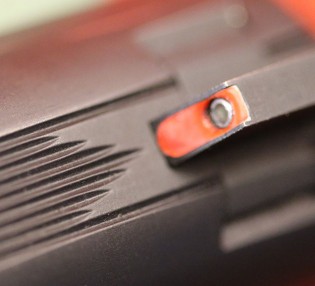 The sights started out as ordinary Heirloom Precision Professional Grade… which means an oversized front post and a solid (no notch) rear. The front sight was cut to proper length and then machined with an inlay so that Jason could apply a permanent orange line covering most of the front post's face which is 0.125″ wide. The notch on the rear sight was cut and widened by hand to 0.165″ per my request. The rear sight is specifically shaped to allow for easy one-hand manipulations on a belt or holster and then radiused and dehorned by hand. I also asked for a 3-dot tritium setup which Jason drilled himself to guarantee that the dots lined up properly and provided a point of aim, point of impact using the front dot. For more details on why I asked for this particular sight design you can see my prior post.
For the moment, the finish is a simple parkerizing as a base layer that is then blued to results in a matte black finish. In the near term it will get a more permanent durable flat black DLC finish. Or I'll break down and get it chromed. Or I'll go with a flat black DLC. Or I'll get it chromed. Or … well, now you know why it hasn't had the final finishing step yet.
Jason shipped the pistol with Wilson ETM magazines and modified Dawson Precision magazines. While stock Dawsons (and the ones made by their supplier, Metalform) had a difficult time in my Warren/Sprinfield Custom Shop 9mm, Jason tuned these by modifying the followers and strengthening the magazine springs. They continue to be something we're experimenting with. The Wilsons serve as my actual carry magazines, their only real deficiency being an unwillingness to eject when partially full.
Grips have been a prototype thumb cut-out style from my friend David at VCD Grips. These continue to be the most effective grips I've found for recoil control on a 1911.
Because I know you want to know the mundane details, you can have one just like this for about $7,500 and a 18-24 month wait. Inevitably this leads to the question of why?
This gun wasn't built on an assembly line and put together by a set of people who assemble hundreds of guns each day. Each piece was examined, polished, and fitted one at a time by just one master gunsmith. Building this one gun took over one hundred hours of labor not including test firing, packaging, and literally dozens of hours of email and telephone conversations between Jason and me. In fact, Jason told me that once the work is done and the gun is ready to ship to the customer it takes him three hours just to assemble it. He slowly and meticulously verifies every single piece for both form and function before he declares it good to go.
So hurry up, before the rush is on, and order yourself a couple.
And once again, thanks to SLG and JAG for a gift far too generous and wonderful than I could ever hope to put into words. Not that I didn't kind of deserve it. I mean, I did let Julie stay with me all night long in the out of control emergency room at a Las Vegas hospital in the middle of SHOT Show. What could be more fun than that? Hashtag Nothing. Or whatever the kids say.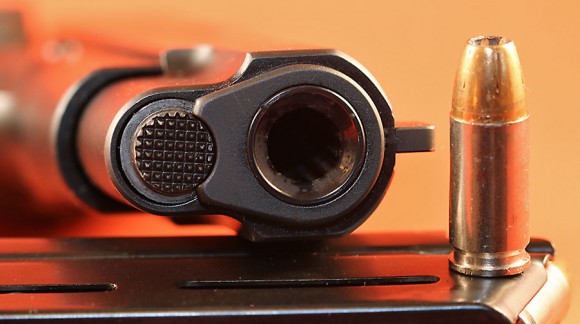 Thanks as always to the pistol-training.com Heirloom Project sponsors: