27-Apr-15 – 20:57 by ToddG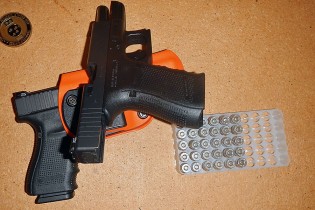 I'm currently breaking in two Glock gen4 19s. One will eventually become my everyday carry pistol. The other will serve as my primary training gun.
Because of the issues with my arm/grip/finger strength, I am making a lot of compromises regarding trigger pull weight that I wouldn't have in the past. It seemed like the details may be of some interest to folks.
The two guns are -46 and -58 (serial numbers). Both guns had trigger pulls that weighed 7# out of the box as measured with an official NRA Weight Set using the center of the trigger … as you'll see later, that makes an important difference.
46 got measured very specifically as I changed parts along the way:
That five pound eight ounce pull, when measured at the trigger's tip, is only three pounds ten ounces. The configuration is exactly the same, it's just easier to pull at the tip than the center. That's important to keep in mind if you're buying parts that are supposed to give you a two pound trigger pull… because it's almost certainly being measured generously in the lightest spot possible.
58 was a stock-to-complete one time change.
7# out of the box, standard gen4 dot connector
5# 12oz after the following changes: Apex Ultimate Safety Plunger, Taran Tactical Light Plunger Spring, Taran Tactical connector, gen3 trigger bar (kept striker spring stock)
very good rolling break
I added the Taran Tactical trigger spring but the trigger would fail to reset when the slide went home gently. It didn't seem like an issue worth dealing with, especially as it had provided no measurable benefit on 46. The five pound twelve ounce trigger pull at the center measures three pounds twelve ounces at the tip.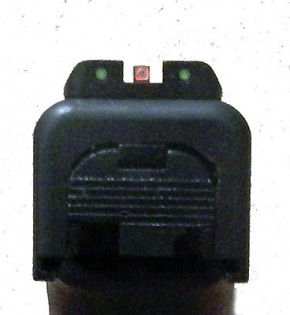 While 58 has a tiny bit heavier trigger — four ounces at the center and two at the tip — the pull is much smoother, has a better roll through the break, and maintains the stock striker spring weight. I may play with a reduced striker spring in it just for the purpose of getting a measurement, but the trigger pull is very satisfactory as is and provides the comfort of stock striker force for breaking primers.
My plan is to convert the 46 gun to the same setup as the 58.
Both guns sport Dave Spaulding's Ameriglo orange CAP front sights (green tritium) and Pro Operator rears (yellow tritium) and Glock extended slide release levers.
Train hard & stay safe! ToddG