16-Jul-15 – 18:13 by ToddG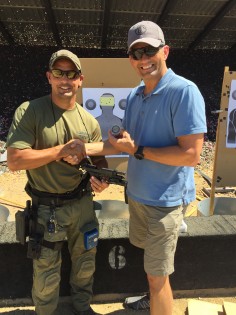 John M. of the Los Angeles County Sheriff's Office Special Enforcement Bureau earned F.A.S.T. Coin number 12 during a law enforcement class held by Ernest Langdon of Langdon Tactical, Inc.
John was using a Beretta 92A1 and shot from his duty tactical gear including a Safariland retention holster.
The drill was shot cold (without any warm up). John's first run was 4.69 seconds and his second run was 4.79. John had earned a F.A.S.T. pin from Langdon previously.
Congratulations, John!
Train hard & stay safe! ToddG