20-Jul-15 – 23:06 by ToddG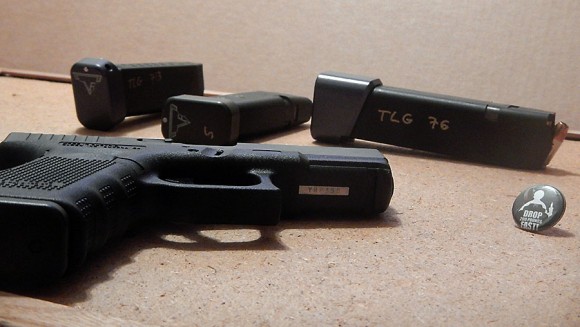 Who wouldn't want more bullets?
I've been using the Taran Tactical Innovations extra capacity basepads on my Glock for most of my practice for the past few months. My goal wasn't to avoid reload practice, though. I was wringing them out to see if I could trust them for everyday concealed carry in my Glock 19.
So far I've had two issues:
Putting a +4 basepad on a G19 magazine and keeping it loaded led to failures to lock back pretty quickly. That problem has been resolved completely by using Wolff +10% magazine springs.
One of my mags (G19 mag, TTI +4 basepad, Wolff +10% spring) when loaded to maximum capacity and slammed into the gun with the slide closed led to a complete mag failure. The follower got jammed in the basepad at the bottom of the magazine and the magazine would not feed rounds into the gun. This required complete disassembly of the magazine to fix. My current workaround is to load only 18 rounds in the magazine instead of all 19. My hope is that once this particular magazine has been kept loaded for a few days it will be as dependable as the others (the ones that had been loaded 24hr a day).
For 9mm, TTI makes two different extra capacity basepads. The smaller adds 4 rounds while the larger adds 6.  For G19 mags, TTI suggests the +4 instead of the +6. G17 mags work fine with both. The 6 also comes with a custom G17 magazine spring to improve reliability.
So why use them?
First, unlike many competing products, the TTI basepads use a lockable metal pin (seen in the photo below) which makes them arguably more secure than the stock part.
Second, they're extremely space efficient. You can see various stock and TTI options below, shown from lowest capacity to highest, left to right.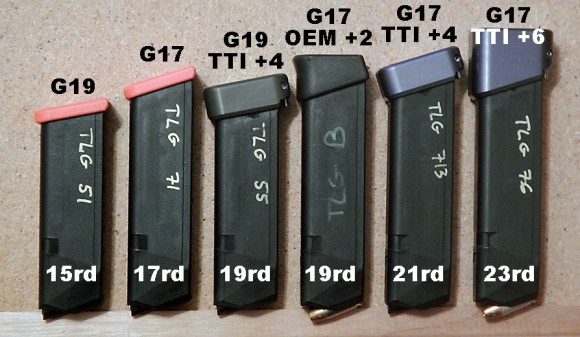 My daily carry is a stock G19 mag in the gun (15+1) and either a G19 mag w/TTI+4 or G17 mag w/TTI+4. The G17+4 is just long enough to make concealed carry a little less discreet. The 23rd combo, at least for me with my gear and my clothes, is just too long. However, it makes a great third magazine that I keep in a small gear bag (along with things like a spare flashlight and the CLEER Medical EDC Pocket Kit) that I can toss over a shoulder.
I may even begin using one of the G19+4 mags in the gun. It extends so little that it conceals better than the full size Glock 17 that I carried for a long time (and holds more ammo). That's 20 rounds in the gun, a total of 39 on the belt, and 62 including the mag in the bag. Bite me, zombies! OK, that might be the wrong choice of words…
The +4 pads are about $30 while the +6 is $42 and they are available in a wide choice of colors (except orange, dammit). I'll probably end up adding them to most of my G19 and all of my G17 mags over time.
Train hard & stay safe! ToddG
And don't forget: