21-Aug-15 – 15:02 by ToddG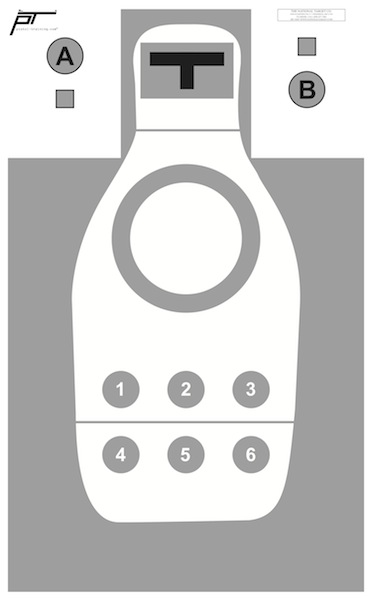 The pistol-training.com Q-PT target sold by National Target Company was obviously designed with Aim Fast Hit Fast and Aim Fast Hit Small classes in mind. My goal was to have a single target that could accommodate all the different drills that would be used in class.
The target has a number of different aiming points with targets zones of varying shape and size:
The bottle is similar to the FBI "Q" target and if you only count the part of the bottle above the thin line at the bottom (between the 1-3 and 4-6 dots) it's similar to the QIT.
The large center circle is 6″ diameter (white) and 8″ diameter (grey).
The rectangle in the head is 3×5 (grey) with a 1″ thick T.
The A, B, and 1-6 grey circles are 2″ in diameter.
The two squares are 1″ high & wide.
After multiple requests, here are thirty of the drills found at pistol-training.com and how they can used with the Q-PT target:
Hopefully you'll find the Q-PT as flexible as I have. I'll usually go through a few hundred rounds in practice and in class between needing to change targets as long as I keep a bunch of pasters on hand.
Train hard & stay safe! ToddG