18-Oct-15 – 17:02 by ToddG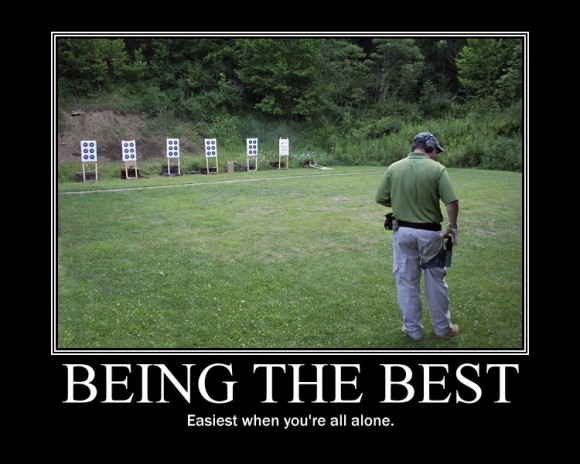 I've said for years, 95% of shooters think they're in the top 5%. They're not honest with themselves and fall into a spiral of self-congratulatory behavior for being mediocre while pretending it's excellence.
I've realized recently that I fall into that same category. I've spent much of the past year telling myself that I was "starting from scratch" but repeatedly saw myself going too fast, whether we're talking about a single drill or improving in general. And things felt like they were flying along smoothly. Then a couple weeks ago I took a pistol class from Ernest Langdon. This was a class I'd spent a lot of time preparing for. But it proved for naught because I was hands down the most horriblest shooter on this entire planet of Earth. And that's no exaggeration. I was by far the worst shooter in the class. Embarrassingly so. Like, slowest one shot draw in the class (and I missed the target when we shot for score). It wasn't just that I was worse than before: I was bad.
After some weeks of soul searching, what I've realized is that I'm not ready for the kind of practice I've been doing. I still don't really have my grip automatic on the draw. Heck, I foul my concealment garment on the draw sometimes. These are things that shouldn't be happening to someone who has over 10,000 rounds of practice under his belt over the past six months.
But it happened. Why? Because I wasn't being honest with myself about where I needed to be practicing. My reload speed didn't need improvement. My grip on the gun did. My trigger press did. I was so desperately trying to be better than I am that I flat out ignored something I know very well as an instructor: too many people try to run before they crawl.  There is only one person who can fix that.
Train hard & stay safe! ToddG