2-Nov-15 – 09:39 by ToddG
Read this blog post on Blue Sheepdog.
Even when the writing is on the wall, it shouldn't be this obvious. The FBI procurement specification for its new 9mm pistol(s) is so specific that only one company's product is even eligible. The staff at Quanitco knows what it wants, and it is bending a whole lot of procurement regulations to make sure the fix is in.
Many of the companies being affected are probably in the midst of planning for the (possible) big Army procurement, so making some changes to their designs probably isn't the end of the world. For example, Glock could probably make frames without finger grooves (now, according to FBI, finger grooves of any size or shape are intolerable) with just a minor mold change. It wouldn't cost HK a million dollars to make a VP9 with a button mag release. But why should they have to? Why does the FBI want to prevent the guns as-is from getting a chance to prove themselves in a fair and open competition?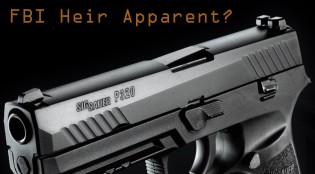 I've got absolutely nothing against the SIG P320. I know quite a few squared away shooters who really like it. What bothers me is a procurement that doesn't need to go past the go/no-go stage for testing because only one gun, no matter whether it's the most reliable or shootable or best choice for thousands of agents, has a chance of winning. Not only is that bad procurement, it's bad officer safety. If the P320 is the best gun, let it prove itself in fair & open competition.
Train hard & stay safe! ToddG