8-Dec-08 – 18:13 by ToddG
62,333 rounds
2 stoppages, 0 malfunctions, 3 parts breakages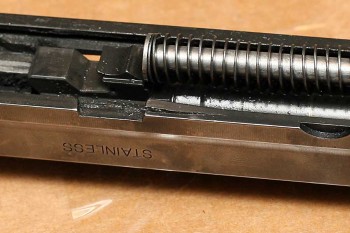 As you could tell, we didn't get an "M&P Monday" posted last week due to the holidays. How do the Gods of War punish us for this?
Yes, that's a crack in the slide. The pistol started to feel slightly different in recoil, a little "snappy" compared to normal, about 200 rounds before this was discovered. Multiple shooters tried the gun and I was the only one who noticed a difference. Thinking the gun was just overdue for a new recoil spring, I disassembled it and saw the crack.
Presumably — though there is no way to know for certain — the gun continued to work (flawlessly) for at least 200 rounds after the crack began to develop.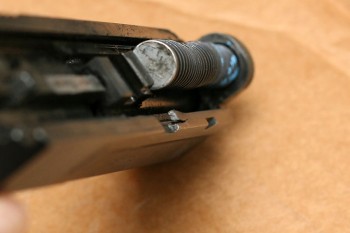 The gun was shipped by overnight priority to Smith & Wesson today. They will have it on Tuesday to examine. If they determine it is still safe to shoot, we'll continue to shoot the gun up until SHOT Show as planned. If all goes well, in fact, the gun will be at the range Wednesday. We'll see just how many rounds it will go in this condition before it finally quits.
Certainly no one wants a major component to crack, but over 60,000 rounds in less than seven and a half months is abusive … which was the point of this test, after all. And even after the slide cracked the gun kept on working. I'm sure you'll agree that it will be interesting to find out whether the gun will go a few hundred or even a few thousand more rounds in this condition.
The piece that is bending up from the crack protrudes enough that a little bit of force is necessary to get the slide back on the gun after disassembly. Of course, every time that's done, we're probably adding further stress. 
When we get final word from S&W (tomorrow or Wednesday), we'll post an update.
Train hard & stay safe! ToddG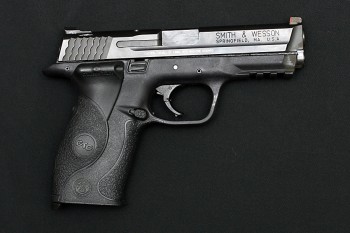 Previous entries: