13-Sep-15 – 22:52 by ToddG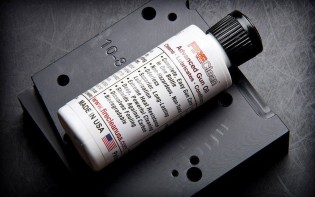 Over the past few days, it has been all the rage for people who know absolutely nothing about chemistry to discuss the chemical composition of FireClean, a popular firearms lubricant/cleaner. Specifically, there are people who claim that it is nothing but a simple common vegetable oil.
As evidence, these people have provided videos showing it burning away at the same rate as vegetable oil or showing an alleged "infrared spectroscopy" comparison between a particular vegetable oil and FireClean.
Raise your hand if you'd ever heard of infrared spectroscopy before this.
Keep it raised only if you actually know how infrared spectroscopy is performed.
Keep it raised only if you know what infrared spectroscopy does and doesn't show you viz-a-vis the complete chemical makeup of a mixture.
Keep it raised only if you think that infrared spectroscopy can prove that there is nothing whatsoever different between vegetable oil and whatever chemical mixture makes up FireClean.
Right now, no one honest has his hand raised anymore. The point being that just because someone uses a scientific sounding phrase like "infrared spectroscopy" doesn't mean it's telling us what that person assumes or alleges it is telling us.
Ask yourself this: Is the infrared spectroscopy of canola oil changed if you add food coloring to it? If you don't know the answer without Googling it, then why are you assuming it has any relevance as far as a gun lubricant is concerned? In other words, if you don't know what does and doesn't affect the outcome of such a test, then why would you assume that the outcome of the test in this case tells you anything worthwhile?
A few things I'd like to be specific about:
One of the guys behind FireClean is a buddy of mine.
I personally don't use (and have never even tried) FireClean because I have been a very satisfied user of Viking Tactics/Rand CLP.
I am not accusing the folks involved in this "FireClean is Crisco" claim to be dishonest or malicious.
Like other types of knowledge, a little science is a dangerous thing. The shooting community has been dragged down so many rabbit holes by other scientific-sounding terms like "gross motor skills" or "MIM" or "hydrostatic shock" … leading to conclusions that are often misunderstood and sometimes completely wrong. It's no different than all of the uniformed anti-gun people who vapidly nod their heads when a politician talks about how a teflon coated cop-killer bullet will slip its way through a "bullet-proof" vest.
What's in FireClean? I don't know. What I do know is that infrared spectrometry can't answer that question.
Also, look for my upcoming article, "The Application of Vectored Kinesthetic Force to Increase Friction as a Means to Obviate The Radians of Sine Partially As Experienced by a Handgun Front Sight Due to Single Dimension Positional Change as Caused by Sudden Internal Ballistic Energy Expulsion," also known as gripping a handgun.*
Train hard & stay safe! ToddG
 * That may not even make sense, because it's just another example of a gun guy assuming he knows something about science when he really doesn't. If it does make sense, I rock.